​
Schoolies in Surfers Paradise is schoolies as you know it! Loads of people, beach vibes, parties around the clock, and everyone celebrating their School grad trip at the end of high school.
Surfers Paradise Schoolies is the place to go if you want to be around the biggest Schoolies crowds. There are at least 7 nightclubs and bars within walking distance including Sin City, Vanity, Shooters, The Avenue, Beer Garden, Liv, Melbas, and many more. There's loads to do including 4 theme parks like Dreamworld, Movie world, Wet'n'Wild and Seaworld.
Our Surfers Paradise accommodation is in the heart of the action. The apartments are in the perfect location, close to the beach and the party. The accommodation has a great party vibe, but is also a chilled spot to spend your sun-filled days relaxing before your night begins.
Y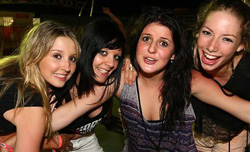 our week at Surfers Paradise Schoolies will surely involve swimming and sun baking on the pristine Gold Coast beaches in Queensland. Our Surfers Paradise accommodation is our #1 Schoolies accommodation, due to the prime location. Durham Court Holiday Apartments boast exclusivity, less than a minute walk away from the white sand beaches of the Gold Coast.
The crystal clear waters of Surfers Paradise are the ultimate summer playground. You'll spend your days soaking up the sun and surf, or relaxing by the pool with mates. Get your daily adrenaline rush by hiring a jetski or see the best view of the Gold Coast from a parasail! Your apartments' heated pool is a great spot to spend your mornings in the sunshine before preparing for the night ahead. Start your night the right way by taking advantage of the BBQ on site. The accommodation is equipped with free WIFI to keep in touch with your mates too.
Surfers Paradise Schoolies is the perfect place to enjoy the beginning of your endless summer by the pool, BBQ or the beach. There's no better place to party than in the Gold Coast sun.
Gold Coast Schoolies #thebestweekofmylife