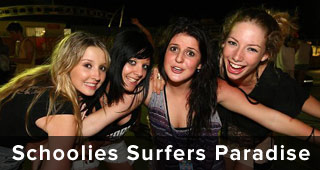 Surfers Paradise is located on the Gold Coast in Queensland, and is the largest single venue for Schoolies celebrations in Australia, attracting tens of thousands of school leavers every year.
With its fabulous beach and awesome surf; beachside shopping, dining, bars and clubs; world-class nightlife venues; international events; and pumping atmosphere, Surfers Paradise comfortably maintains its position as the good-times hub of the Gold Coast. It offers the complete holiday experience all in one, compact destination.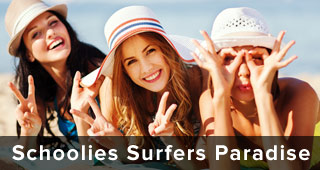 Sure Thing Schoolies Travel offers the biggest range of top-rated Schoolies Resorts and Hotels in Surfers Paradise, with the best price guaranteed. One of our Dedicated Schoolies Surfers Paradise travel consultants can look after all of your arrangements, giving you the widest range of options when it comes to Schoolies week. We'll also let you know some of the precautions you can take to keep everyone safe and healthy.
So get ready to have some well-deserved fun but remember to get your accommodation booked early! If you want to get on with making your Schoolies plans now (before you miss out), we can take care of all your Schoolies needs at a price to suit your budget. If you have a particular hotel in mind, let us know, otherwise, we can listen to what you're after and recommend the best option for you.
To take the first step fill in the form below or email us at schoolies@surething.com.au
We're only one click away!
All employees at Sure Thing Schoolies are fully Accredited and Qualified.