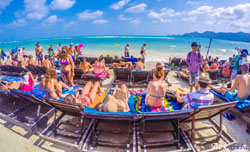 Picture this for a moment…it's the middle of the afternoon and you're at the beach with your friends after having an exciting morning of Jet Skiing. The sky is shining down on the clean, white sand and reflecting brightly off the turquoise sea, as you relax on your sun bed and sip a refreshing drink. Live music is playing nearby and you wonder which exotic, beachfront restaurant you'll try tonight before the poolside party at your hotel swings into action. This is living…
Well, guess what? If you contact Sure Thing Schoolies Travel now and book a spot at the Official Schoolies Accommodation in Thailand – Ark Bar Beach Resort – this could be you! Located in the heart of Chaweng Beach on beautiful Koh Samui (Samui Island), Ark Bar Beach Resort is known as a one-stop, beachfront party destination offering three Swimming Pools, Beach Club, Live Music, free Fire Shows and Parties every night, which make it hugely popular as a Schoolies destination year after year.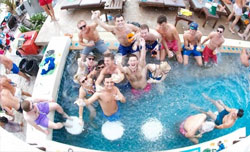 Other exciting activities available at Thailand Schoolies 2018 include Elephant Riding, the Tiger Zoo, Full Moon Party, Koh Samui Waterfalls, Jet Skis, Speedboats and much more. You'll need to talk to your Sure Thing Schoolies Travel consultant to find out all the options available and the costs involved. And who wants to go shopping? The Central Festival Samui Lifestyle Shopping Complex in Chaweng is a huge, modern shopping and dining mall with over 200 shops, bars, restaurants and activities for you to explore.
When you book Thailand Schoolies 2018 with Sure Thing Schoolies Travel, you're guaranteed to get the genuine Schoolies experience — a full-on week of sun, sea, fun and celebrations while staying in quality, beachfront accommodation. Booking Official Schoolies Accommodation through Sure Thing Travel will also ensure that you'll have no problems at check-in, there'll be Schoolies-friendly hotel staff, and fully Accredited and Qualified Sure Thing staff on site.
Sure Thing Schoolies Travel has an amazing Thailand Schoolies 2018 package available, which includes flights, transfers, accommodation, hosted parties, breakfast every day and an Official Schoolies Singlet. To get more details, and to make sure you don't miss out, contact a Sure Thing Schoolies Travel consultant today. Sure Thing is proud to be accredited by the AFTA Travel Accreditation Scheme (ATAS), which is your guarantee of receiving reliable and professional travel advice from its highly qualified staff. You can book your Schoolies Week knowing you're in the safe hands of a trusted and reputable travel agent who will make the process an easy one from start to finish.
Sure Thing Schoolies Travel is a leader in Overseas Schoolies travel, and offers its expertise specifically and exclusively to Australian Schoolies. If you're ready to start planning, settle for nothing but the best and make your Thailand Schoolies Week 2018 a Sure Thing! Thailand Schoolies 2018 Details and Packages are now available and places will fill fast, so don't wait! Complete the form below or email us at schoolies@surething.com.au