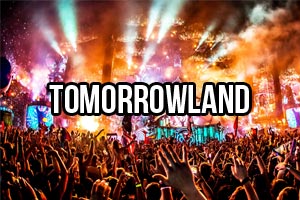 Travel within a magical fantasy world, uniting the people of Tomorrowland. Over the past decade, the Tomorrowland Festival has become one of the most popular and biggest global music festivals – attracting world-class DJs, bands and artists, and over 400,000 attendees. Tomorrowland is held annually in Boom, Belgium and people from around the world travel to Europe to experience this electrifying festival. 
If there is one festival you have to see in your youth, it's this! Meet a collection of people that will be united forever through this incredible festival and celebration of music, mother nature and the people.
Tickets for Tomorrowland often sell out within minutes but Sure Thing Travel can arrange your Tomorrowland Festival travel including tickets, flights, accommodation and transfer to the gig. We also take the stress out of finding accommodation or camping spots at the festival. 
If the festival is not the only highlight on your Europe trip, we can help piece together an epic #EuroSummer holiday. Great add-ons include a city stop to Amsterdam and an island escape to the Greek Islands. 
We've had a huge demand for these packages from our awesome festival travel customers and we've partnered with Festicket to deliver. Let us know your requirements and our team will start work on creating an epic Europe itinerary for you and your mates that will have you attending one of the biggest festivals in the world.
All our employees are accredited and qualified and have hands-on experience will Europe as a destination and how specifically the festival works.