One of the best and most popular tourist destinations in Western Australia, Dunsborough is located on the stunning turquoise banks of Geographe Bay. A tranquil and beautiful location, it offers sparkling, calm, clear seas and white, sandy beaches that are linked to the town by lush, green grass and shady paths. The town itself has a bustling café atmosphere, gorgeous boutiques and plenty of nightlife, with brew houses, wine bars and pubs all having a nightly live music scene.
Dunsborough Leavers is known for its fun, beach party atmosphere and in 2018 it's going to be better than ever. Leavers 2018 in Dunsborough is already available and bookings are rolling in fast, so if you're planning on heading to Dunsborough don't leave it too long to book or you'll miss out!
With beaches that are ideal for diving, snorkeling, kayaking and other water sports, it's a place where you can relax and soak up the sun or take part in exciting activities during the day, and then enjoy the awesome Schoolies vibe when the sun goes down. Dunsborough is considered to be one of the safest Schoolies locations, while still containing all the elements that makes Leavers week so memorable for those who are part of it every year.
The Sure Thing Travel Leavers Weeks in Dunsborough have become very popular, so if you're finishing high school next year and want to have a great week out of town to celebrate, make Dunsborough your destination for an awesome time. Located around 250km south of Perth, the drive there offers spectacular scenery and the destination is laid back and relaxed. It's away from the hustle and bustle of Perth and is a perfect place for Leavers to kick up their heels and party.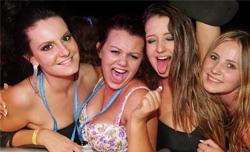 The Dunsborough Leavers Accommodation is already starting to fill, so whether you're planning to party hard or simply relax on the beach, contact Sure Thing Schoolies Travel now and let us take care of all the details. Booking your stay with Sure Thing Schoolies is the best way to guarantee an awesome Leavers Week 2018 that you'll always remember. We've also got the inside information on what official events are planned and how to access them.
As a leader in Schoolies Travel, Sure Thing offers its expertise specifically and exclusively to Australian Schoolies / Leavers, so if you're ready to start planning, settle for nothing but the best and make your Dunsborough Schoolies Week 2018 a Sure Thing! Dunsborough Schoolies 2018 Details and Packages are now available now so don't wait! Complete the form below or email us at schoolies@surething.com.au
All employees at Sure Thing Schoolies are fully Accredited and Qualified.