When you've completed all those years of hard work and have finally left school for the last time, you want to celebrate with an awesome holiday, right?
One of the ultimate ways to have a completely carefree vacation is on a cruise. When you are cruising you are truly free to enjoy yourself, with services provided to cater to your every need. And the beauty of cruising is that it is an all-inclusive vacation. Flights, accommodation, meals, entertainment, visits to exotic destinations and just about anything else you could want are included in your travel package.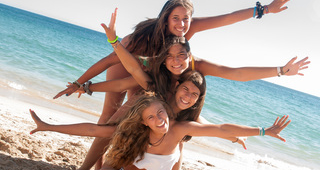 Once you've made your decision to spend your Schoolies holiday on a cruise, it's time for you to do your homework. In your efforts to find a cruise package that will satisfy your own personal sense of adventure, make sure that the cruise line caters to your ideal vacation goals. With the limitations imposed over the last few years many cruise liners won't allow Schoolies on cruises; however, there are plenty of other options available, and there are often provisions in a cruise that are not offered in a regular vacation package.
By choosing a fun cruise line, you can be sure of finding the activities and the atmosphere you are looking for.
Cruises offer a magical experience that cuts away from the norm. Living it up on the high seas can offer you many unique and exotic ventures. There is a special allure that captivates you, as you see the night sky unencumbered by city lights for the first time. Each day, as you venture off the ship to explore some exotic island location, you are open to entirely new experiences. Meet the locals, discover different cultures, enjoy beautiful sunsets and taste the most elegant dishes. Regardless of what type of vacation you are looking for, chances are that a cruise can fit the bill.
Ready to start planning? One of our Sure Thing travel consultants would be delighted to assist you with finding a cruise package that is ideal for you!
To take the first step, fill in the form below or email us at schoolies@surething.com.au
We're only one click away!